OUR FOUNDER - HENRY BAKER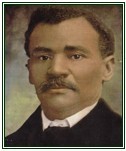 Reverend Henry Baker
Founder of Baker Chapel AME Church
Henry Baker was born a slave in 1855 before the Civil War in West Virginia; he and his only brother were separated as children.  His owners migrated to Bremond, Texas.  He was there when the emancipation of Negroes was declared in 1865.  He was later reunited with his brother, James.
Henry was reared an AME, and began preaching in Bremond.   His brother was a Baptist. They did odd jobs down by the Brazos River, saving their money to become independent; both moved to Fort Worth in 1900.   Allen Chapel was the only AME church in Fort Worth , and Henry became a member.  Along with other members of his family he worked in building construction.  The first  job they worked on was Mount Gilead Baptist Church.  Reverend Jenkins, Pastor of Allen Chapel AME, saw other black congregations building magnificent edifices, and assessed every member of the church $100.00.  Henry's wife, Lucy was one of the original donors toward the new church. Several members did not agree with the plan.  Along with Reverend Henry Baker, they left to start a new church.  A group  of eight  members organized "Baker Mission" in 1908 on the Baker Funeral Home lot at 301 E. Rosedale.  A few years later, they purchased land at 1050 East Humbolt and began building a tabernacle where the congregation, now named Baker Chapel AME Church, could worship permanently.
Reverend Henry Baker planted several churches.  He organized Evening Chapel AME in Grand Prairie and Allen Temple AME Church in Irving.  He moved to west Texas, where he organized Baker Chapel AME Church in Big Springs.  After he became ill, he returned to Fort Worth and lived with his brother in the brick building adjacent to Mount Zion Baptist Church, where Atlanta Life Insurance Company had its offices for many years (presently the NAACP building).  He died there April 26, 1944 at the age of 89.  His funeral, preached by Reverend A.R. Nelson, was held at the church he founded, Baker Chapel African Methodist Episcopal Church.  Reverend Henry Baker is buried in Peoples Burial Park in North Fort Worth.
History researched and compiled by Ashley Victoria Baker, Great-great granddaughter of Rev. Henry Baker on February 22, 1999
Information from interviews with Harold Barnes Baker, Sr.; Paula Roberts Baker, Ruth Munchus Baker and Baker Funeral Home files.